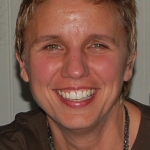 I am fascinated with movement, with the human body and with the story our bodies tell us, with how a person relates and what his or her corresponding needs are. I am in search of the forgotten links and connections. This is the base from which I depart in supporting people on their path. Breath, rhythm an movement are my tools. Stillness is where I resource and where I can lead a passionate life from.
Ever since I was a child, I have been fascinated with the human body.  At young age, I was confronted with the limitations of the body and I witnessed how people destroyed this body in order to keep situations under control.
This was what triggered me to do what I am doing, to be who I am.  At that stage, I didn't know where it would take me.  I graduated as a physiotherapist and saw that physical complaints were often caused by tension, problems, etc.  My own body protested and I was forced to look for relaxation.
Yoga was the first thing I got in touch with.  It revealed a whole new world to me, but the technique was not really my piece of cake.  It was too static for me (I was only 18 years old).  I went on searching and practiced a lot of different body-oriented therapies and techniques. I specialised in relaxation techniques, breathing techniques and finally in the 5Rhythms® movement practice.  I have been teaching "Waves" for years and started teaching "Heartbeat" recently.
Throughout the years, these techniques gave me insights into myself, into who I really am. It strengthened the relationship with my own body, I learnt how to relax and how and when to use the different breathing techniques. It taught me how to deal with my emotions and use them as a strength. And alongside all of this, my fascination with the human body and with movement grew even bigger.
Until this very day, what triggers me to keep on teaching is to support people in their search, to and within their bodies, for who they really are. My classes focus on how we can fix everything, and release it if only we allow ourselves to, on a physical as well as on an emotional level. I use breathing and relaxation techniques, 5Rhythms® Dance, Open Floor Movement and Centering Movement.
In addition to my work as a teacher at Souldance, we have gathered a team that closely works together on building a centre:  a place where everyone is welcome, with whatever story, to join us and start the journey : the path to well-being.
Physiotherapist: 3-year training to become a bachelor in physiotherapy; HIEPSO Kortrijk, 1989-1992,

Breathing therapist: 1-year training; V.K.V., 1991-1992,

Relaxation therapist: 3-year training; V.KV., 1993-1996,

Emotional bodywork,  such as workshops & ongoing training in bioenergetics, Reichian breathing work, primal and encounter, rebirthing therapy, tantra, 1989-1998,

Spirituality and energetic work such as healing, ceremony, group work, workshops about ancient knowledge and ancient 'native' earth-based cultures; Ike West and others, 1997-2007,

5 Rhythms® dance: extensive trail both in Belgium and abroad for personal growth and as a preparation for the dance therapist training; G. Roth, Y. & S. Darling Khan, A. Juan, J. Horan, S. Richkards, A. Allard, K. Altman, a.o., 1993-2001,

5 Rhythms® dance teacher  – waves: 2-year training; Moving Center School (USA), 1999-2001,

5 Rhythms® dance teacher  – heartbeat circles: 1-year training; Moving Center School (USA), 2009-2010

Open floor movement Teacher; Open Floor International (USA), 2013-2014

Fascilitator : Open Floor – Therapy in motion
Independent Physiotherapist in a physiotherapy practice in Gits, Belgium, 1993-1998,

Independent Physiotherapist associated with Zeepreventorium De Haan (treatment of respiratory issues), 1997-1998,

Teacher at Hogeschool West-Vlaanderen, HIEPSO, Kortrijk, teaching subjects such as massage, relaxation therapy, limph drainage and general physiotherapy to future physiotherapists, 1994-1998,

Mentor and teacher in institutions such as Agape, Open Mind, Open Hart, Vorming Plus Westhoek en Kust, Vorming Plus Kortrijk, the league for Chronic Fatigue Syndrom, several secondary schools in Flanders; women groups, ongoing trainings for couples, breathing and relaxation therapy, teambuilding, anchor days for youngsters, corporate days, 1995-2011,

Co-founder and teacher at Open Huis, centre for language, image and movement in Staden: relaxation therapy, bioenergetics, 5 Rhythms® dance, massage, mentor during anchor days for secondary schools, coaching for companies and groups of managers, children's weeks, 1995-2004,

5 Rhythms® dance teacher in different locations both in Flanders and abroad, 2001-now,

Lecturer at Howest (Hogeschool West-Vlaanderen, Renaat De Rudderlaan, Kortrijk): occupational therapy – wellness coaching, 2008-2012

Co-founder and coworker at Open Floor international (USA), 2013-now
Inspirer, co-founder and daily management at Souldance : centre for personal growth and health, 1998 – now

Support for the design of folders and website, 2002 – now

Teacher and mentor for courses, ongoing trainings and 5 Rhythms dance waves and heartbeat, massage, relaxation, personal growth, coaching and individual therapy, centering, bodyspirit, open floor movement and centering movement,1998-now
Contact Nele
Rekestraat 11 - 8840 Staden
Tel: 051/70.55.70.
E-mail: nele@souldance.be
Websites: www.nelevandezande.com
www.openfloor.org
www.buildersofthepresence.be
Life isn't about waiting for the storm to pass…
It's about learning to dance in the rain!
auteur onbekend