A Dynamic Movement Facilitator Training – 2 years
with Nele Vandezande (Belgium) & Cathy Ryan (Ireland)
A training for our times. A training in togetherness as things fall apart. A training in resources on how to bring together self, community, creativity & prayer.
Whether you are already a facilitator, therapist, artist/healer or someone who has felt the passion, change and healing inherent in moving the body, this training will offer you a weave of skills and tools to enhance your offerings into the world around you.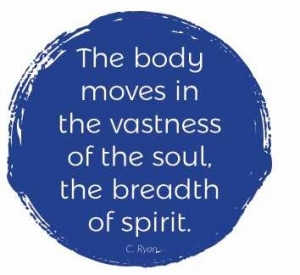 We offer this training from all the years of our experience, a synthesis of who we are now as conscious movement teachers and people, what has grown us, guided us, what we have created and what has developed us into leaders  – this is what we're shaping our training around – a synthesis of our own trainings in anatomy, physiotherapy, energetics, shamanism, theatre, poetry, diamond approach, therapy, meditation and deep enquiry. There will be an emphasis  on the weaving of anatomy, ceremony and creativity into the art of movement facilitation. See below for more details as to who we are…
Everything moves. Everything is movement – one way or another, up, down, in, out, shaken all about.
And shaken we are in these times. This training will offer you a way to bring some ground and holding, some hope and inspiration into your communities and/or work spaces.
The BISO training will enable you to hold groups of people, guide and lead them into a sense of embodiment and presence . Point them towards resources for togetherness, centering, opening, releasing and acceptance.
It will enable you to form or grow community with creativity and awareness, dance and exploration, ceremony and presence.
What you will study – Content
BISO is an experientially based body of work, understanding through your body and senses what is happening, what you're experiencing and learning.  how you offer from there, what tools you can use to enable that.
You will know how to create a frame for holding a group, a frame for leadership.

You will be able to give movement sessions, offer people rooted, clear movement resources to support a unification of the soul, spirit, mind and emotional landscape in the body.

You will receive a set of teachings on anatomy and the energetics of the body and the work of Bodyspirit.

You will have a solid and basic grounding in how to use music as medicine.

You will be able to hold simple ceremony and ritual space in your own life and as a facilitator.

You will receive deep support in a harnessing and continuous opening to your creative life force as a grounded, guiding intuitive intelligence for your participants to drink from.

You will receive a set of teachings on working with libido and sexual energy.

You will receive focused attention in small groups from both Cathy and Nele in between modules, and individual feedback as the training progresses during each module.

Each module will introduce a guest speaker from many different modalities on leadership, passion and soul.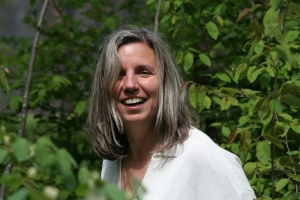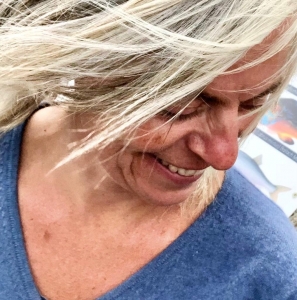 Nele Vandezande and Cathy Ryan were born in 1971. They followed their passion and curiosity for life and both fell in love with movement as a pathway to presence and awareness, a map to follow in order to  keep deepening into what it means to be human. They met 15 years ago and shared dancefloors, rooms, trainings as well as teaching and working  together regularly.They became very close friends.
Nele and her husband Kurt Pattyn are the founders and creators of Souldance  www.souldance.be and Cathy of HumansBeing  www.humans-being.co.uk .
Both are long standing 5 Rhythms teachers and founding members and faculty of Open Floor International. They are both homemakers and seekers –  always open to new possibilities. So much in common and so very different in certain aspects of who they are.
The horse and the bird – you will find out which is which and who is who!
Earth and water meets fire and air.
One moves from a deep understanding of the anatomical energies and physicality of the body, the other from a soul connection and deep understanding of the healing power of the arts and ritual.
At the age of 50 they find the moment to bring their expertise and experience together and offer their wisdom and work in the creation of BISO.
After teaching and working in the conscious movement field for so long, they are excited and passionate about what they can offer to colleagues and the training skills they can bring to a whole new generation of movement facilitators.
Questions you will be asked.
What is movement?
What makes a good teacher?
What is togetherness? Unity?
What is the true nature of joy? What is joyful about these times?
How do you cultivate your creativity?
How do you take care of your relationships – family, friends, colleagues?
What is right about breakdown, failure, pointlessness, boredom?
What is alive about these times? What is pointing to true nature?
What is ceremony/ritual for you?
What is clarity?
Tasks & assignements will include
Projects, Class plans, Soundscapes, Reading list.
We want you to be able to add this training, BISO, into your work field, whatever it is- to bring more juice to your work and how you offer into the world.
Or begin a brand new adventure.
100 hours of conscious movement practice inclusive of 5Rhythms, Open Floor , Soul Motion, Bodyspirit, Freedom dance, Azul.
3 weekends, of relational/emotional enquiry in a recognised body of teaching. E.g. 5Rhythms, heartbeat, Open Floor Therapy in Motion, art therapy, any kind of professional arts training, therapy work, deep enquiry/meditation work (e.g. Vipasana, Diamond Approach)