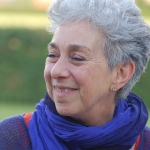 I have been fascinated with dance and movement all my life. Having studied almost every form of dance, my first love is the one where you make up your own steps.
The 5Rhythms® and Gabrielle Roth have been my teacher for nearly forty years. I've collaborated with Gabrielle to bring her work out into the world and helped to birth her first two books, Maps to Ecstasy and Sweat Your Prayers.
Along with Andrea Juhan and Lori Saltzman, I co-founded The Moving Center School in California, which was the teacher training arm for the 5Rhythms® and has become one of the largest dancing communities in North America.
Open Floor International is the new organization I am co-creating to offer the healing work I've found in all movement practices from dance to yoga.
I consider two of my greatest accomplishments to be my 32 plus year relationship with my partner, Lori and the fact that my 17 year old son, Daniel, still talks to me about almost everything.
Contacteer Kathy
www.openfloor.org