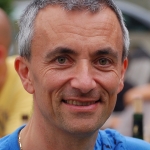 My biggest passion is to get more and more insight into the power of connection and centering, and to use these insights within myself and in my life. To find out how each and every part of my body is connected to one another and how this connection expands beyond myself : in the relationship with my partner, my children and my job. Day after day it touches me deeply to experience and see that we are part of something bigger and wiser and that our physical body is a mere reflection of this. The power of connection is feeling the stronger powers outside myself and being able to source them within myself.
After having graduated as a physiotherapist, I had the opportunity to work in an institution specialised in treatment of breathing problems near the seaside (Zeepreventorium) for 10 years. Simultaneously, I  studied osteopathy D.O.,  a 5-year training, that enhanced my insights into the coherence within the physical body.  I complemented this with different courses in the field of emotional bodywork, which made me realise even better how my emotions where related to my body. I went on with this for about 8 years, especially to get to know myself, my blockages and more in particular how to deal with them.
After my osteopathy training,  I specialised in Applied Kinesiology. What interested me the most about kinesiology, was how simple it is and the fact that the body always shows where the cause of a complaint lies and on which level. Kinesiology is a way of learning how to communicate with people's bodies. This method was very valuable, as it deepened my work as a therapist.
A few years later, when I got in touch with shamanism, ancient wisdoms, the medicine wheel and energy work, the circle was closed for me.  It was then that I really felt and saw, for the first time, what spirituality meant to me. It helped me to continue my work on a deeper level, no only my personal work, but also my work as a therapist. The Indian wisdom and ceremonies of Ike West nourished my work as an osteopath and as an energetic healer.
I took a 2-year training to become a herbalist and several courses related to osteopathy as well as emotional and spiritual work. Then I took a 4-year course in Esotericism and Theosophie, where I got to know the wisdom of A. Bailey and H.P. Blavatsky. This established the link between Amerindian and oriental wisdom for me. I keep on participating in workshops and taking courses, to get to know myself better in the first place, as I am convinced that I can only support people when I work on myself in order to create a better balance between the inner and the outer me.
My way of working is to help people and accompany them in their search for the causes of emotional as well as physical, mental and spiritual complaints. In doing so, we don't only deal with the complaint itself, but it also brings people closer to themselves and helps them discover who they really are, without being influenced by education, teachers, traumas and culture. This gives them a clearer view on " what their contribution in this world is and what their biggest soul qualities are."
Physiotherapist: 3-year training to become a bachelor in physiotherapy; HIEPSHO Kortrijk, 1985-1988,

Sports physiotherapist: 1-year training; V.K.V., 1988-1989,

Osteopath D.O., M.R.O.B.: 5-year training Osteopathy; I.A.O. Gent, 1990-1995,

Kinesiology: 1-year training Applied Kinesiology; Chris Smith Brussel, 1995-1996,

Herbalist: 2-year training; Vormingsinstituut Kortrijk, 1999-2001,

Emotional bodywork such as workshops and ongoing trainings in bioenergetics, Reichian breathing work, relationships, primal and encounter, rebirthing, men groups, Tantra, 5 Rhythms dance, 1989-1998,

Spirituality and Energy work: such as an ongoing training for shamanism in Koolskamp, a Vision Quest in Polen, sweat lodges, fire walking, energy work, healing, ceremony, group work, workshops about ancient knowledge and wisdom of earth-based native cultures; Ike West U.S.A., 1989-2008,

Esoterism and theosophy: 4-year training; Surya Brugge, 2004-2008,

Total biology: 1-year training about the relationship between embryology and the physical, mental, emotional and energetic body of the human being,

Osteopathy specialisms: several workshops and specialisation courses on osteopathy
Respiratory physiotherapist: worked under the direction of Dr. H. Franckx and Dr. Jean Chevaillier at Zeepreventorium De Haan, a renowned institution specialised in respiratory issues,

Supervisor of thesises about breathing and sports by physiotherapy and medical students,

Visiting lecturer at HIEPSHO, Kortrijk about respiratory physiotherapy,

Teacher of breathing specialisation (techniques, physiology, pathophysiology, biomechanics, patho-biomechanics, pathology, treatment of respiratory patients) for parents, patients, physiotherapists, pharmacists, doctors, sports doctors, specialists and professors,

Visiting lecturer at I.A.O., Belgian School for Osteopathy in Gent,

Visiting lecturer at the Dutch School for Osteopathy,

Visiting lecturer at Panta Rheï: School for Osteopathy in Kapelle (The Netherlands),

Several workshops and lectures in Belgium about health, awareness and spirituatity,

Mentor for Tantra-trainings for couples and men groups (for 4 years),
Independent Osteopathy practice, 1996-now,

Co-founder of Souldance: centre for personal growth and health, 1998,

Teacher at Souldance: courses, trainings and ongoing trainings in energy and emotional work, spirituality, centering, 1998 – now
Contact Kurt
Rekestraat 11 - 8840 Staden
Tel: 051/70.55.70.
E-mail: kurt@souldance.be
Website: www.centering.be
www.centrosofie.be
At the center of yourself, you will find everything and everyone, nothing and no-one. You will find your true self
Auteur onbekend